Wednesday, 2/18/2015


Streambeds below-treeline offer some of the best snow, though wind- and sun-affected surfaces can be challenging…
Thursday, 2/19/2015
Everything from 2″ of dust on steel slab to knee-deep…

the exit

South Ammonoosuc Ravine is still a tree-choked, powder-stuffed streambed

Friday, 2/20/2015, Sunset tour on the Westside
Friday, 2/20/2015 random Cog skiers
Micayla's Dad
Saturday, 2/21/2015
There should be a good Westside TR coming soon from Micayla's Dad…

Sunday, 2/22/2015, Central Ammonoosuc Ravine
Tagged the summit with a really great partner, down-hiked the Crawford Path half way to the Cow Pasture, skied from there through minefields of rocks until we hit the top "S" curve of the Central Ammonoosuc Ravine drainage, where the real skiing started. Deceptively soft snowdrifts alternated with steel slab down the "S" – great left turns, hard right turns – then a short side-step down to snowfields that lead directly into foot-deep powder in the 'half-pipe'. Then down the headwall, around the several ice bulges in boot-top to knee-deep powder the rest of the way.
Safety? I expected Moderate to Considerable avalanche hazard in Central Ammonoosuc, and we considered other route options; the only question was which avalanche Problems the West wind had created. If there had been any sign of Soft Slab or Hard Slab problems, I would have bailed out immediately and skied down another route. The whole way down, we were dealing with Loose Snow. We managed the terrain; pulling off to relative safety on the side while my own slough ran by; stopping above each ice bulge to reassess the next move. The first of four point-release loose-snow avalanches we triggered was maybe R2 or R3, ran most of the way down, over 3 ice bulges, on a bed surface of Thursday's snow, which had been hammered by West winds. That begat hollering "AVALANCHE" three times, in case anyone was below us. We reviewed our options, since it was a bigger slough than expected. It had left a small debris pile, maybe not enough for full burial, but getting knocked over one of those ice bulges would have been potentially traumatic. I made 2 turns on the bed surface, then dropped into the knee-deep on skiers-left, and followed that the whole way down. We triggered 3 more R1 slides that each stopped at the next ice bulge. Below the bottom avalanche debris, the hazards changed to open water holes partially hidden by new snow. Yeah, I know, it doesn't sound like a safe tour…
Any way, total documentation FAILURE – the sd card in the video camera popped loose before I started skiing; the camera/phone battery went dead in the cold; and the GPS failed to save a track. We could see our tracks and the slide paths from a mile away, but all I have is one low-res photo looking over our shoulder…
Views from Sunday's tour; MB, GG
Taking a couple days off for maintenance – my car, my ski bases, and my health. I've been out in several sub-zero days, but today started with record-breaking cold, at least in the valleys, where it was -18F to -30F when I drove through Franconia, Twin Mountain, and Whitefield, to Lancaster this morning, where it has warmed up to -15F by 10AM.
On Sunday, 4 hard-core Cannon friends skied Burt Ravine behind Jonathan Shefttz, then skinned back up to the Cog, down to the ART trailhead, and up towards Lakes of the Clouds, to access untracked Monroe Brook for a second run. Reportedly, no slides, surprising since I expected West winds had crossloaded that NW aspect, based on the view from Jacobs Ladder. There's a good photo of their MB adventure somewhere (at Village Ski & Sport in Lincoln).
We also had a good look at two distant GG lines, Pipeline and Activator. Pipeline looked scary – loaded wall-to-wall, read for human triggers. Activator aka Cassius Clay is probably not skiable off the summit yet, as the East headwall was scoured, but at the krumholtz down, there was a nice, thin ribbon of snow in the shallow gully running down towards Spaulding Lake. Couldn't see Airplane or MIL, and the boilerplate iceflows along the Gulfside Trail dissuaded us from getting any closer.
The summit was really scoured, predominantly rock and ice. Skinning up along the Cog, we saw a snowboarder down-climbing, where Jonathan had "skied" a couple hours earlier, from the summit back to the tracks near Trinity Heights Connector. Skinning up next to the Cog without ski crampons in these icy conditions is challenging – the summit's not ready yet for resort skiers with their first AT set-up.
rog,
the East Side is so much more loaded with snow, why would anyone choose to ski the rocks and ice on the Westside after reading these TRs, unless they don't have enough gas money to get to Pinkham, like me? Hopefully these TRs have exposed the mysterious BlogFreeZone for what it is – the fetch zone for snow that eventually is transported to the Eastern Slope –
Wednesday, 2/25/2015, a popular ice-climbers' destination
As further evidence of the scoured, rocky, icy terrain we like "skiing" on the Westside, I offer this TR from another tree-choked streambed in the Western White Mountains.
We were able to ski from 4300′. Above there were at least 3 wall-to-wall ice flows, probably why it's such a popular ice-climbers' destination. We had full crampons, but our window of opportunity to ski out in full sunshine was closing, and we were unlikely to find very good snow above those ice flows.
Safety: 30 degree slope; we had done a beacon check at the trailhead; but the avalanche hazard was Low; it should be obvious from the video, there are anchors everywhere; the greatest hazard was the minefield of rocks – don't leave your brain-bucket in the truck on this tour;
Indeed, best snow I have skied in that Westside spot, despite the relative frequency of rocks!
Snowboarders didn't leave us much…
Originally posted by natron
Yeah, Natron knows some of my best friends are knuckle-draggers; tracks up looked like 2 days old, 2 riders with a split-board & a pair of snowshoes; the usual suspects are a couple local guys that I run into every year; following their snowboard tracks out through the low-angle easter-bunny glade, railroad-grade, and cascade glade was a godsend, else we would have been breaking trail downhill…
Originally posted by vtpowder
…and some of my best friends are vermonters…
Friday, 2/27/2015
welcome back, Drew!
A short clip from today:

Some MB photos requested by Natron;

Mt. Clay, on the Gulfside Trail heading towards Jewell Trail junction


MIL is MIA this season


See you on the trails!

Vidoes omit the predominant skiing surfaces
RR & Natron, pls bear in mind that the videos empasize the best turns made in soft, loose-dry snow, and omit the predominant skiing surfaces we found, especially at and Above Tree-Line: steel slab, breakable windcrust, suncrust, icy sun-cups, and of course, lots of rock & ice. It's a challenge staying forward/centered on your skis with so much "spatial variability" from one turn to the next… though Natron's ride maybe a better tool for that job than 2-planks…?
"…some pow there! …breakable (windslab) …and a rock! …then suncrust"

Saturday, 2/28/2015
Originally posted by icelanticskier
rog, when you were posting that question, my thoughts were "go back and do it again from higher up, hopefully off the summit of Clay".
Saturday, I repeated Friday's tour, enjoying temperatures about twenty degrees warmer. Based on weather and snow observations over the past week, the MWObs weather forecast, and Mt. Washington Avalanche Center avalanche hazard advisory, I thought Pipeline would be worth looking at, Saturday.
Although my tour plan was outside their forecast area, I'll include a few excerpts that were particularly applicable.
Ranger Frank Carus described the hazard as Moderate to Low in Tucks, and, the primary avalanche problem as Persistent Slab "…generally of the firm (1F-P) variety but, in some areas, they have a weak layer of snow located either between layers or deeper in the snowpack, near a buried crust. Moderate rated areas have the greatest potential for what would be a large, hard slab avalanche…", as well as newer Wind Slab.
Describing the snowpack, he wrote, "…Low rated areas of both Ravines predominately received scouring in some places down to a rock hard old surface."
This describes the scoured steel slab surfaces we skied above tree-line on the Westside Friday, which were smooth enough to be enjoyable skiing, like shaving chalk with a knife edge;
"…Though areas of the aforementioned persistent slab certainly exist in Low-rated (scoured) areas, there are more opportunities to avoid them by staying on the older, harder surface or by otherwise reducing your exposure with cautious travel techniques…"
"…There are at least two faceted layers holding our attention right now. You could find early facets in the soft snow interface between the slabs that most likely developed during wind loading on Saturday and Monday. You are also likely to find deeper and much more advanced facets around a couple of buried crusts. In the bowl beneath Sluice this facet layer was failing 90-95cm down in the moderate range (CT14, 14, and 19). It is likely that these facets will be most advanced on southerly or westerly aspects where temperature gradients have been the greatest."
This reflects what I found in a 2-meter deep snowpit on a rocky gravel landslide with a W-NW aspect in Burt Ravine. I located numerous hard-over-soft layers, and buried crust boundary layers and facets in the snow profile, then isolated a column for CT.
At CT1, the top 3cm windcrust surface sheared;
at CT9 the top 15cm-20cm new snow slab sheared;
at CT14 another layer failed about 50cm-60cm down;
and a shovel-shear test popped the next section of the column at another thin, buried crust about 1.2 meters down…
"…Bigger slopes present the greatest threat with the least number of safer travel options so carefully consider how much you are willing to expose yourself to this threat in order to recreate on firm snow…"
I didn't even bother looking at Airplane, because even if the likelihood of an avalanche occurring were small, the consequences in Airplane are high;
Pipeline was not scoured down to a stable, steel slab that I would consider skiing; it evoked Ranger Frank's Friday advisory that the "…steepest sections of slopes, wind loaded sidewalls of gullies and thin sections of slab are the most likely potential trigger points."
No go, I had to walk away: a small cornice at the top rim, soft new windslab down the center fall-line, sidewalls loaded with 2-3 layers of partially eroded windslab… potential trigger points everywhere. Based on all the visual red-flags, it looked like human triggered avalanches were likely, leaving me with CONSIDERABLE uncertainty.
Skiing out North Burt, I made sure to ski several lines we missed the day before
There wasn't enough snow to ski off the summit of Clay, but I was able to ski from a couple hundred feet above the Gulfside Trail
Pipeline, and North Burt Ravine, 2/28/2015
Originally posted by icelanticskier
I looked Pipeline over, verbally listing all the red-flags… but if you could hear my voice over the wind, and that awful soundtrack, when I said, "…it's loaded with snow…", you could tell I wanted to ski it.

If I skied in without breaking the Cornice, and the breakable soft wind slab was able to support my weight without propagating a fracture across the start-zone on the first half-dozen turns down the fall-line, then maybe I wouldn't get avalanched 1000+ vertical feet, over the final ice-bulge, and spit out on the fan in a pile of debris…
…and it might have been the best boot-top to knee-deep powder run I'll ever have in Pipeline.
rog, you're right; there aren't many options to ski off to a 'safe zone', or even to get out of the way of your own slough. Pipeline is so narrow, steep-walled, and straight-down-the-fall-line, that it's nearly impossible to "manage the terrain", and I'm not a smart-enough mouse to escape that terrain trap.
One or two natural avalanche cycles may create a safer snowpack to ski Pipeline. Meanwhile, there's plenty of low-angle snow to ski at- and below-tree-line on the Westside.
Tuesday, 3/03/2015
Monday morning found 5″ of new, low-density snow at Marshfield Station, before the afternoon snow squalls moved in and dumped an inch per hour, and another 3″ fell from 2-5PM, as winds increased to 70mph+ on the summits.
By Tuesday morning, almost no sign of this 8″+ of new snow was left on the Westside, or in Oakes Gulf, or in Monroe Brook, other than the icy chunks that shook off the trees.
Tuesday, I took a tour up the ART to Lakes, around the East side of Monroe summits, and down Monroe Brook.
I can't tell you where the snow blew to, (here's a clue!)),
but I can tell you where it isn't, and save you a drive to the Westside for nothing.
North Ammonoosuc Ravine had a thin veneer of snow on lots of ice:


Central Ammonoosuc Ravine had more blue ice showing than a month ago – the snow I skied around skiers-left of ice bulges is almost all gone:


Snowboarders and skier in Central Ammonoosuc Ravine halfpipe, had the good sense to go skiers-right at the headwall.

70+mph winds scoured down to the January 16 crust, and then began eroding away even the top quarter-inch of that icy surface


Mister Robbins Neighborhood


Hoping the W-NW winds had built a big snowfield on the eastern slope of Mount Monroe?


Oakes Gulf, scoured down to steel slab & old surfaces above tree-line…


Maybe East Franklin? That looks like blower pow, from a mile away…


Nothing left but steel slab in the top two-thirds of MB, then the final third was scoured down the middle with soft snow on either wall.

3/04/2015
It looks a little better today. Wind repainted a fresh canvas. 4″-8″ of heavy snow AR Marshfield Station. Scoured off skiers-right of tracks, which the Cog snow-blowed up past Waumbek Tank to repair a switch house damaged by vandals breaking the door. If y'all don't want a No Trespassing FENCE then let's respect the Cog's property. I suspect the Quebecois though it could have been
any meathead…
Wednesday, 3/04/2015
The 4″-8″ of heavy, dense snow that blew Tuesday and overnight was just what we needed, if anything was going to stick to the scoured old surfaces and blue ice in AR, this was it. Still primarily scoured surfaces, but…
In Wednesday's MWAC avalanche advisory regarding the lee aspects of Tucks & Huntington, Jeff Lane wrote, "…prior to new snow, most of those rated Moderate had a stable snowpack due to heavy wind effects and scouring. There is a chance that some of these areas also were scoured last night during strong winds, but until you have the good evidence of this, your best bet is to assume that the slopes were loaded rather than scoured."
Even more scouring occurred on the windward Westside, and very few places loaded. 2+ days of hurricane-force winds from the NW, W & briefly S, have managed to scour almost every aspect down to a stable, hard (but not icy) snowpack; except in isolated terrain features. That's what we're looking for, and I watched 3 skiers find it, skiing the waterfall where the ART crosses the branch of AR that flows fromm Lakes of the Clouds hut to the Gem Pool. After skiing one pitch, from almost a mile away I could hear one say "holy sh*t!", so it was either really good, or really challenging…

Although it was scoured steel slab and blue ice across the middle and skiers-right (and on the entire approach above tree-line in AR), I found a little snow had loaded on a narrow line down the skiers-left of Central, boot- to knee-deep, loose & dry :

Wednesday, March 4, Ammonoosuc Ravine
Shaky, poorly-lit POV from Wednesday:

…back up pipeline
Originally posted by icelanticskier
yeah, exactly, a Great Gulf Exit Plan has to follow every great descent; I don't have Sheffy's stamina to ski out every vertical foot possible to NH-16, by headlamp; not a good day to spend an hour punching a boot ladder up Airplane, all the while wondering who might drop in from above you; I've transitioned to boot-crampons at the ice bulge in Pipeline and climbed back up more times than I've skied over/around the ice bulge. but it's always a climb…
Friday, March 6, 2015
Today I had time for a quick run on lookers Left Central Gully, and met a friend with 4 more skiers descending Central Ammonoosuc Ravine;
short clip:

the long story:

Originally posted by icelanticskier
funny, my friend +4 doesn't want his FB followers to know where he skis – to keep the crowds down! Its a classic tour, and it was fun to watch 5 good skiers skiing it in great lighting & visibility, even if conditions were chalky. Plates will probably start turning green on the vt side, now that the sap is rising and St Patty's Day is around the corner. I hope my 2015 posts from the Blog-Free-Zone won't mislead anyone with visions of "wide-open skiing on snowfields" like a certain 2010 Appalachian Mtn Club backcountry ski publication.
Don't come to the Westside for good videos or vast snowfields
Originally posted by drewvw
experimenting with shoulder mount, after 10 frustrating minutes at JL establishing wifi connection to mobile device for vid cam's remote viewer app – this is not why I ski – so I just skied the run and edited the snot out of the footage afterwards
Saturday, March 7, 2015
I missed all the fun in Ammonoosuc Ravine on Saturday, while I was chaperoning my nephew around the parks at Loon.
https://www.facebook.com/TheBerlinDa…19426964796662
"Backwoods Snowboarder rescued after breaking leg
Fish and Game was notified of an injured snowboarder in the Ammonoosuc Ravine around 1p.m. Saturday. The coordinates provided by 911 showed the injured snowboarder to be approximately one mile from the Cog Railroad Base Station parking lot.
Officials say Owen Cassidy, 29, of Brunswick, Maine, was snowboarding the ravine when his snowboard tip drove into the snow in the run-out at the bottom of the ravine causing a boot top fracture to his right leg.
Cassidy had been snowboarding with two other people who initiated the rescue with a call to 911. Prior to rescuers arriving on scene one of the other skiers, Ryan Gibbs, who is wilderness first responder, stabilized the leg with a splint and cravats he had been carrying in his pack and added some sticks to the splint for support. Gibbs and the other skier, identified as Forest Frizzell, next managed to strap Cassidy onto his snowboard, securing him with ropes and straps, and started to slide him down the trail with assistance from a hiker who happened upon the scene.
Rescue personnel from Twin Mt. Fire & Rescue and PEMI Search and Rescue were the first on scene. Rescue personnel located the injured party approximately a quarter from the Cog Railway parking lot. The rescue personnel packaged Cassidy into a litter and brought him out to the awaiting ambulance around 2:30 p.m. He was then transported to Littleton Regional Hospital.
Due to the efforts of Frizzell, Gibbs, and the unidentified hiker in getting Cassidy so far down the trail many other volunteer rescuers, who had been responding, were turned back.
All three skiers/snowboarders were prepared with packs climbing gear, avalanche gear, extra food, water, and clothing and a medical kit."
©2015, The Berlin Daily Sun
Sunday, March 8, 2015
The Westside needs a Nor'easter by Easter,
Weeks of scouring have left almost nothing but a pencil-hard base, even down in the forest below tree-line.
My last words Sunday, to 3 friends following my partner & I into Burt Ravine: "I hope you're not following because you think there's powder down here…".
Even the tree-filled 2010 avalanche runout down Clay Brook South was predominantly smooth hard windslab or breakable suncrust, with some isolated cold dry pockets of soft snow on the left bank.
60 seconds POV:

Originally posted by powdergibbs
That's a north country newspaper: no hyperbole, no melodrama, just the facts.
The only inaccuracy is that the first rescuers on-scene were Forrest & Gibbs. Well-played on the self-evacuation, my friend; your rep is intact.
I would have bet a dollar on you getting to Marshfield before the COs and SAR volunteers had time to respond to 9-1-1 dispatch;
Q: was much time spent by EMS team re-packaging the pt only a quarter-mile (*like 5 minutes away*) from the Twin Mtn Rescue ambulance?
Sounds like you had stabilized the pt well-enough to transport him that far, or was the pt uncomfortable on the improvised sled? I've watched well-meaning first responders delay transportation to a hospital by 25 to 40 minutes while they re-evaluate, re-splint & re-package the pt trail-side, less than 5 minutes from the waiting ambulance.
Originally posted by Lftgly
Repacking only took less than 5 minutes and though it was 5-10 speedy minutes to the ambulance the flex from the snowboard was much less comfortable than a sled. The sled afforded much more control for double fall lines, none of which were as burly as some of the earlier ones. No re-splinting was done until a vac-splint was installed in the ambulance.
Snow all blew off to the East Side
After the heinous "butt slide" skin, Lftgly engages in some wishful thinking with hopes raised by unexpected sun and low wind.

Lftgly stylishly in search of soft snow on Monroe Brook, March 10, 2015.

Burt Ravine, March 10, 2015.

Ammonoosuc Ravine, March 10, 2015.

Tuesday, 3/10/2015
Originally posted by jumpturn
Thanks for the hi-res photos, JT! Any day I ski MB is a good day, and I had great company, but we've been spoiled in years past.
The snowpack on the Westside has been shrinking for the past week.
Monday afternoon's snow squalls delivered an inch or two on the Westside, while I was there, and I watched it blow away before I was gone.
Tuesday was a bit of a disappointment. We came back looking for those "isolated terrain features" harboring great soft snow from Monday, and they were no more than shadows in the krumholtz. Twice I made a great left turn in boot-deep powder, near the top of MB, but there was no soft right turn, only pencil-hard windslab.
Tuesday's temperatures & sun didn't soften anything above tree-line, and below tree-line, it only softened enough to create a melt-freeze crust for later in the week. I know its Maple Sugaring time in New Hampshire, when 'Frost Heaves' and 'Bump' signs appear. Driving country roads just after sunset, the first sign of a sugar house is smelling the sweet smoky steam from a wood-fired evaporator. There's not much snow on the Westside, but maybe it will corn-up sweetly before its gone.
I've repeatedly posted how poor the conditions have been on the Westside, but no one believes me, they keep on coming. On Monday 3/9, I took a short afternoon tour with the dog up Clay Brook, and crossed tracks with three skiers exiting Burt Ravine, who asked "have you been to GOS or the East side in the past week or two?". "No", I said, "but that's where all the snow is. I only ski here because I'm a local."
I doubt they are coming back to Burt Ravine this season. I could have save them a trip. Woulda helped if they followed my tracks out (skiers-right of Clay Brook South, to the fork in the brook), but they followed the wrong tracks on skiers-left.
Have I gone too far? Safety is important, and playing in a snow pit can be a good way to kill time, when you have no real safety concerns… but.
I doubt the 2-meter deep snowpit in MB under the 'upper little headwall' yielded very useful data after the first 10-20cm, just deep PH slab; you won't find any facets in that spot until you hit the birch branches, even deeper; that spot is a start zone in a big snow year, but bed surfaces have not developed in Monroe Brook to support any more than small R1-D1 natural avalanches. MB has been primarily scoured all season long. The light, low-moisture-content snow we got all February did not load MB, it scoured away. The "old surface" in MB is primarily the January 16 thaw, there was no net gain in February, and March has not contributed anything to the snowpack in MB. Same can be said of AR North and AR Central gully. I will say it, even though I'm not qualified to forecast: recently the avalanche hazard in Monroe Brook has been LOW – and consequently the skiing sucks
When I got to (almost fell in, and had to ski around) the small snowpit in the middle of the final runout of Monroe Brook, only a 20-25 degree slope, I didn't know what to think. The only objective hazard there, since 2010, has been icefall on a warm spring day. The weekenders had apparently decided to play with a shovel – something I wouldn't discourage, but DIG ON THE SIDES WHERE THE SNOW IS THINNER, AND YOU MAY SEE THE LAYERING, and maybe some faceted weak layers. Then FILL IN YOUR SNOW-PIT if it is in the middle of the ski slope.
So the die-hards and vermonters will come, like they do every Spring, but seriously? Wake up, its not 2010 on the Westside, its not even 2013 – there are much better destinations. Am I gonna have to put some gas in the car and post TRs from somewhere else to prove it?
3/12/2015 Ammonoosuc Ravine
Thursday, back from the South-West, I found 1″-2″ of new upslope snow on the Westside was already being transported by strong West to Northwest winds, so I went looking in the trees on a SW aspect, where I found a little new snow, but the base had been bombed by basketball-sized chunks of icy snow that had fallen out of the trees last week, and a breakable wind- and sun-crust lay under about 1″-3″ of new snow. Not really possible to link turns in the trees with this snow surface, but another 4″-5″ and the trees may offer good skiing next week.


Looks great, huh? Beautiful terrain, but not a day to take photos of pretty ski tracks…
3/13/2015 – Burt Ravine South
Friday the 13th (my lucky number, but not today), I sat at Jacobs Ladder and stared at Ammonoosuc Ravine while I ate my lunch, trying to locate any sign of that 1″-2″ of snow from Thursday, but I couldn't see anything worth hitting, so it was time to look in Burt Ravine. Maybe if I stuck close to the trees on skiers-left there would be some snowdrifts that had escaped the wind… but a short way down, it was clear to see that the NW aspect had not held onto much snow. Over on the far side of Burt Ravine, maybe those smooth surfaces with a SW aspect were the soft snow I was looking for. Yes and no. There was plenty of snow in the krumholtz, but any surfaces a ski-length wide had been scoured, even on that SW aspect. As usual, the best snow was way below tree-line along Clay Brook, and even there, all the snow was way up on the left or right bankings;
This line would be great to hit in the future, but it was lined with rocks on the skiers-left; luckily a smooth, bullet-proof surface on skiers-right allowed descending next to the stone wall, until the final 6 turns of soft powder…


A fun little chute, skiers-right, approaching the fork in Clay Brook:


Those were the only 2 places I was able to link 6 or more turns in soft snow… still a great tour in my opinion, but these conditions are not what most skiers would enjoy.
3/14/2015 – Central Ammonoosuc Ravine
Yes, back again for more punishment. The snow surfaces are scoured, not as smooth as last week, due to old ski-tracks and loose frozen-granular debris that's too heavy to blow away; still a pencil-hard steel slab that you can ski with sharp edges – not boilerplate or bullet-proof, although that describes the 4+ ice bulges, which are more prominent than a couple weeks ago. It was fun to ski due to the technical challenge – and there were a few dozen soft turns down low, along the last two waterfalls. Then the snow got sticky in the floor of the ravine, where air temps hovered around freezing. The storm was coming in, not great weather for photography;

Originally posted by csmith
I'm glad to see you took advantage of it, Chris!
that gully you can see over your shoulder, in the upper right of your photo, is where I went Friday, maybe it would be worth going back to after yesterday's new snow

3/15/2015 – Central Ammonoosuc Ravine
Jumpturn and I took a short tour on Sunday, one and done

"if you learned to ski at Cannon, you can ski anywhere in the world"
We earned our turns on the long "firm" approach, and our reward was a few dozen turns down that short, steep ribbon of soft, dry snow.
After learning to ski on bullet-proof boilerplate, an icy, rocky, narrow gully is "no worse than a bad day at Cannon," I like to say.
"a tad firm" is an understatement; you may hear me muttering under the soundtrack, as I skied across the top ice flows for the 2nd day in a row, "take a look at all that ice!" . You don't want to be standing at the top of an icy gully, wondering how sharp your edges are…
Skiing Ammonoosuc Ravine on Saturday afternoon, we skied in light snow showers and blowing snow, with half-mile+ visibility; mild mid-20sF air temperatures allowed relative comfort above tree-line despite 25-30MPH West winds. The SW aspects above tree-line on either side of North Ammonoosuc were predominantly scoured, as was the West-facing Central Ammonoosuc gully, except in the lee of 'isolated terrain features'.
After blowing snow all day from the West, on Saturday night, the winds came around to the SW at 7PM, then blew from the South for 4 hours, then blew from the SE for 5 hours. Then from 3AM to 8AM Sunday, the wind direction changed from South to SW to West, and then to NorthWest. Temperatures dropped 20 degrees to single digits F, as the northerly flow ushered in Canadian air. Snow continued on NW winds until Noon.
Skiing Ammonoosuc Ravine at 1PM on Sunday afternoon, we had blowing snow-grains, flat light, and quarter- to half-mile visibility; Northerly winds began ramping up, that would continue for the next 24+ hours, into Monday. In the past 36 hours, winds had blown 30-40MPH with a 90 degree shift from West to South, followed by a 180-degree shift from South to North; consequently, any cross-loaded wind-slab had scoured away to old surfaces on windward SW & W aspects. Rising windspeeds from the N-NW were resurfacing a thin, boot-top-deep layer of loose dry snow on skiers-left, especially in the lee of the rock wall features.
While we were hoping for deeper accumulations and lighter winds, the thin cover, and lack of slab formation, resulted in Low avalanche danger. I only observed one skier's slough that ran 50-100 feet ahead of me, down the last steep pitch.
It was good to see some resurfacing on the windward Westside – this weekend's heavier snow didn't all blow away!
herding; familiarity; human factors
Originally posted by drewvw
I'd say MB is much better, by most skiers' definition. There's been just as much traffic in MB, probably more than central, but less blogging about it. MB also has some good turns half-way down, up the bankings on one side of the brook, or the other; like most westside tours this season, the best skiing in MB is below tree-line, in the trees and the narrow, snow-filled streambed.
I probably prefer skiing Central because of the exposure to long-sliding-falls over 4 frozen waterfalls, and I love skiing next to rock walls. It's a preference born of skiing at Cannon on boilerplate, down the man-made canyons of Middle Cannon and Middle Ravine.
I remind myself, every time I drop into central, that Familiarity may lead to under-estimating risks in hazardous terrain. However, familiarity with the ice and snowpack development from almost-daily observations reduces my uncertainty, when assessing avalanche hazards, and choosing a safe route to ski the terrain; I would not encourage anyone to ski central, or MB, unless you are with someone who is familiar with the terrain.
I am reminded of the first two gladed areas off Tuckerbrook, named "Locals Only" and "Lemmings Leap"; if you were followed by flatlanders on your way to "Locals", the Tuckerbrook code-of-honor required that you divert from your objective, and lead the herd over "Lemmings", a rocky ledge that would ensure they never came back again to look for "Locals Only".
rog, I know a guy, who knows the guy who keeps skiing central, and blogging about the Westside; maybe I should send that guy a pizza-to-go (in a cardboard box, with a message), if he would stop blogging and skiing central over and over.
3/21/2015 – Central Ammonoosuc Ravine
Late Saturday afternoon, as several dozen skiers & riders were descending, I headed up with the dog for a quick afternoon lap down Ammonoosuc Ravine. The sun was fading fast, as the cloud ceiling was lowering, and wind was picking up, but visibility was still okay for a quick run. The snow was hard and chattery, but the dog was able to get a grip, and any day you can walk the dog up & down Ammonoosuc Ravine is a good one.


Weekend campers had set up a tent in the floor of the ravine, and after approaching on snowshoes, had boot-packed more than halfway up central Ammonoosuc, leaving a zipper line of postholes switching back & forth up what little skiable snow surface there was, next to the frozen waterfalls.


The dog didn't mind, the boot-holes helped him find footing, but it was not a positive addition to my skiing experience. Maybe an ice-climbers approach (?), but probably just novice winter campers/hikers.

Left Central Ammonoosuc Ravine – 3/24/2015
The dog wanted to go back to Ammonoosuc Ravine – who can blame him?


He wanted to go down there again.


Okay, the skiing sucks, but it looks like a beautiful day to let the dog run down AmmonoosucRavine.


Left Central looks pretty tight this year, unless you're a dog…


Okay, lets go home.


…a predecessors surprise break-through undermined snow…


Good dog.
Wednesday, 3/25/2015 – Central Ammonoosuc Ravine
Originally posted by jshefftz
On my approach across Ammonoosuc Ravine, I watched a dozen other skiers & riders descending ahead of me, apparently including Jonathan. Although the snow surfaces were not ideal for skiing, the sunny weather made it a great day to be anywhere on the Rockpile.

Saturday, 3/28/2015 – Central Ammonoosuc Ravine
Skiing surfaces were better than expected; windspeeds were light for the last 48 hours, and dropped to single-digits for the last 12, allowing 2″-3″ of new low-density snow to accumulate on open slopes, with 4″-5″ in the lee of some terrain features. Kicked off numerous R1-D1 sloughs, even on the approach, there was just unbelievably light powder skiing today above tree-line, on a nice "firm" base. The dog had as much fun as I did.

Originally posted by Lftgly
Sunday, 3/29/2015 – South Ammonoosuc Ravine
I counted 50 cars at the Cog on Sunday at Noon.
Loose dry snow was an issue on the westside; a small D1-R1 sluff ran 100 feet past me in AR South Gully.
new ski beta
Yeah, I get your point; "Westside" is a broad term; to me Westside specifically means the western slope of Mount Washington and the Presidential Range, as opposed to the "Eastern Slope" on the Pinkham Notch side; "Westside" for me also means the western White Mountain National Forest region, my home-base for hiking and ski-touring.
I associate Oakes with a southern aspect; and Oakes can be accessed from East or West; a ski tour to Oakes that begins and ends with 2400 vertical feet on the Westside may belong in the "Westside" category;
RE: the Oakes Gulf slide triggered by neufox47 on Sunday, 3/29, ("We went up Hillmans and dropped into airplane bowl…I looked up and saw the lines to the climbers left of what I just skied…they looked loaded with fresh snow…"); it sound like that's the gully I call "central", and Sheffy refers to as "Half-Pipe" gully, which he thought "might be more primed to go" 5 days earlier, on his 3/24 tour:
Originally posted by jshefftz
roj had a few suggestions for getting down safely over a convexity at the top to dig a pit in the potential start zone, but all joking aside, spatial variability makes pit assessment academic, if you dig anywhere other than the start-zone of what you're going to ski; if neufox47 or I myself had done any CT or ECT near the top of Oakes central gully, I'm not sure we would have seen any red-flags like what jumped-out when he jump-turned in the start-zone.
Sunday noon, 50 cars at the Cog trailhead… then reports of 7 avalanches reach Sunday night and Monday television news… Tuesday noon, 1 car at the Cog trailhead…
Oh yeah, the ski beta: rain changed over to snow at 8AM at 1400 feet in Sugar Hill, about 1″ sticky wet accumu;ation by Noon, but the clouds are breaking up; hopefully, more accumulation mid-mountain!
Sunday, 3/29/2015 – South Ammonoosuc Ravine
Catching up on last week's TRs, with video & photos from Sunday, 3/29/2015
…which you can see in this video:

If the Herbie Han**** soundtrack is too mellow, pm me for the alt version, using Mission of Burma's That's When I Reach For My Revolver…
https://www.youtube.com/watch?v=I8piMHsOya4
Ammonoosuc Ravine looked good Sunday:


South Ammonoosuc Ravine


The ski tracks from the top turns in South Ammo were visible from Marshfield Station, in the center of the photo above;

Tuesday, 3/31/2015 – South Ammonoosuc Ravine
Back again to South Ammonoosuc Ravine on Tuesday, 3/31/2015;


A fine finish greeted me at the trailhead:

Wednesday, 4/01/2015 – South Ammonoosuc Ravine
Back again to the Cog base on Wednesday, April 1 at 3PM = only 1 truck & 2 of the usual suspects, familiar looking guys grinning ear-to-ear, celebrating with cold beers in
an even colder parking lot, having just skied first tracks down MB with a few inches of new snow on top of Tuesday's dusting;
I asked if they skinned up the ART to Lakes, to get to MB, or climbed straight up MB; they replied that they skied up the ART awhile, then followed a gully up a 'variation' of Ammonoosuc Ravine and eventually booted up the steepest parts; all other tour options being equal, rather than break trail up the Cog in new snow, I thought it would be most efficient to follow their skin track up ART:
North Ammonoosuc Ravine


Central Ammonoosuc Ravine


South Ammonoosuc Ravine is tucked out-of-sight on the right…

I wasn't too surprised to find the gully 'variation' they had ascended was South Ammonoosuc Ravine, and that they had booted up my ski tracks from Sunday & Tuesday…

If you watched Tuesday's video, you could see the snow was best in South Ammonoosuc Ravine below tree-line,
until I got down to the runout of my skier-triggered avalanche debris from Sunday, which had set up hard under the dusting of newer snow.

By Wednesday, South Ammonoosuc Ravine was not looking like a good way to descend; the booter ascending right up the skiers line through tight trees, avy debris and sun-crust had turned an otherwise smooth snow surface for skiing into a post-holed single-track hiking trail…


"It's trashed!?!"


i sought out another line to skiers-right, where snow quality was good, (center of picture below)


but trees were too tight to link turns down that line this year;
After Tuesday's epic sunset tour, Wednesday's South Ammo descent was anticlimactic, but beautiful.

Back at the trailhead before sunset, I ran into 2 close friends of mine who had skied MB for 3rd & 4th tracks ("still quite nice"), while I was skiing South AR.
South Ammonoosuc Ravine – 3/31/2015 video
South Ammonoosuc Ravine – Tuesday, March 31st
Sunset tour video:

North Ammonoosuc Ravine – 3/31/2015 video
Above tree-line turns in North Ammonoosuc Ravine,
Tuesday, March 31st,
(before a descent via South Ammonoosuc Ravine that's shown in another video)
Both videos include the same slideshow of Tuesday's Westside sunset.

South Ammonoosuc Ravine – 4/01/2015 video
Here's video from South Ammonoosuc Ravine on Wednesday, April 1st:

…the booter ascending the skiers line through tight trees, old avy debris, and sun-crust forced me to seek out another line to skiers-right of South Gully, where snow quality was good, (center of picture below)


…but it was too tight to link turns – at least there was another nice Westside sunset!
Monroe Brook – 4/03/2015
Here's video from Monroe Brook on Friday, April 3rd

It was very warm, 55F, when I left the trailhead at 3PM; I chose to stay in the shade and follow the Ammonoosuc River into the forest, hoping for firmer snow; it was getting late, so the snow would be firming up as the shadows fell… Sunwheels the size of Volkswagon tires had rolled down the bankings of Monroe Brook earlier in the day; the snow was quite soft, and sticky enough to skin the entire distance to the top; although most of the slope was in shadows for my descent, the snow had not set-up yet; I avoided hitting any frozen sunwheels; the soft mashed-potatos were easy to plow through with tired legs, and it was fun to smear big turns off both left and right bankings;
View of Mt Washington summit and Ammonoosuc Ravine from MB:


Top of MB:

Mt. Clay: Great Gulf & Burt Ravine – 4/07/2015
Tuesday, we skied off the summit of Mount Clay, (summit on the left in photo below), down the Great Gulf, and then down the Westside in Burt Ravine North and Clay Brook;


At 9AM, the mountain was in the clouds;


Marshfield Station had about 4″ of heavy new snow, with quarter-mile visibility, and a light NW wind;
winds had blown 40+ from the West overnight through most of the precipitation, with temps in the upper teens;
then winds had shifted to NW at sunrise, and temps had risen slowly to low 20s;
it was about 29F at 2600 feet, 25F at 4500 feet, and 21F at the summit;
as usual, we had trouble getting out of the starting gate…
but by 11:45, we were above the clouds at Jacobs Ladder, with an undercast sky,
and by 12:25PM, we were looking at the Great Gulf, and a huge overhanging cornice at the top of Airplane;

We expected some wind-scouring above tree-line on the Westside, with low to moderate hazards; and wind-loading on eastern aspects in Great Gulf, with moderate to considerable hazards;
Airplane was so un-safe, we didn't waste time speculating about skiing it, and skied North along the Gulfside to Mt. Clay Loop;

a favorite cairn on the Gulfside, showing the undercast…

we looked at Pipeline awhile, and poked around in the upside-down snowpack near the start-zone long enough to decide it wasn't worth serious consideration; we were not finding cohesive windslab, but the new snow was top-heavy, partly due to rising air temperatures, sunshine above the undercast, and lack of wind; the top inch or two of the new snow was inclined to slide off the drier snow, shearing within the new snow;
under the new snow was an icy sun-crust, which appeared to have been pretty rough, forming the potential bed surface; Pipeline was so-o-o wind-loaded that it was either going to be an awesome ski run, or as I asked Ben rhetorically, "isn't that what it would look like right before an avalanche?"

The eastern slope of Mount Clay had looked promising from our vantage point at Airplane, particularly the line named 'Activator' aka 'Casius Clay', off the summit;
[IMG]
[/IMG]

IMO, the terrain is more manageable on Activator than Airplane or Pipeline; its a more open slope, less of a terrain-trap, somewhat lower-angle,
and Activator included the best Great Gulf exit plan: skinning back up;
We skied cautiously off the summit, one at a time, and had no issues… until about 300-400 feet below the summit, about where 'Diagonal' joins 'Activator';
as I was cranking out big turns on a wide slope with great snow, unbeknownst to me, my slough was slowly following me down the mountain…like molasses;
when I pulled over to skiers-left to wait for Ben, I looked over my shoulder and saw my beautiful tracks being entrained by a slow-moving,
wet loose snow avalanche, following me down the hill; it slowly passed me, and kept on going;
the slide ran about 600-800 vertical feet, well below us, towards Spaulding Lake, which had been our goal; i wish we could have cut over to the bottom of Haul Way, to ski all the way down, but we were too low to cut over easily;

at that point, we put the skins on, and began climbing back up
a few dozen kick-turns and an hour+ later, we were back at the summit of Mt. Clay (via 'Diagonal');

Then we skied off the summit of Mt Clay, down Burt Ravine North, and Clay Brook, back to the Cog;


think the fun was over? no, we found the snow below tree-line in Burt Ravine was very reactive, and even small terrain features were sliding;
one ski-cut by Ben ran about 300 vertical feet, like molasses, but it strained through trees like a sieve, and just kept going; 3 smaller skier-triggered slides ran <100 feet; These slides were not as disturbing as the 'Activator' slide, and we enjoyed the ski out Burt Ravine and Clay Brook;

in retrospect, obviously, if we had skied 'Activator' or Burt Ravine much earlier in the day, we may have had fewer stability problems;
any ski tour you walk away from is a good one, and we enjoyed some great skiing, but I prefer a wider safety margin than what resulted from my decisions today.
Great Gulf ski lines annotated
Here's an un-official Great Gulf map from the TFT archives, showing Activator/CassiusClay:
Video of WL-AS-D2-R4 avalanche in Great Gulf on Tuesday
After consulting GPS for elevations:
we skied off Mt. Clay's summit at 5533′, down to about 4500′; then triggered the slide at 1:30PM around 5200′; the run-out in the trees was 200'+ below where we stopped skiing; that's 900 of 1200 vertical feet, 3/4 of the potential path length, which classifies it as R4;

East (ESE) aspect; -71.3140,44.2861; slide triggered within the new snow layer, and stepped-down to the new-old snow interface in many places;
mea culpa
Really great, constructive criticism! thanks, guys;
I want to post separately a short list of 5-6 points I take away from yesterday, and some important, if subtle details, in yesterday's avy forecast, now that I've had 24 hours to reflect; your criticism already touches on some of these points, so I'll post here a quick point-by-point reply:
Spatial variability; yes, at the top, it felt alright, but… if there were an avalanche rose fx for WMNF, where would the elevation breaks be?; we did our assessment at or above Clay col's 5391′ elevation, at the 5533′ summit of Mt Clay, where Wind Slab and possibly Loose Dry Snow problems were anticipated, but not found; the 5500′ summit and a few hundred feet below had a very different (colder and drier) snowpack, than at 5200′, where the Wet-Loose avalanche released; it was an entirely different avalanche problem at 5200′ than at 5500′; a careful approach to snowpack evaluation should include re-assessing conditions as you change elevation; our observations at lower elevations on the Westside approach were not relevant on the East aspect: spatial variability;
Yes, you are right, and its not the first time you've warned me about tardiness…
"Anticipate a changing avalanche danger when actual weather differs from the higher summits forecast."
the daytime heating was unexpected; in my experience, those east-facing GG lines don't soften up unless they get morning sun with low winds; the first hour and a half of our ascent, we did not see the sun, until ascending above the undercast at Jacobs Ladder; I failed to consider that the East side had been under sunny bluebird skies above 4800′ for several hours, while we were in the fog at lower elevations on the Westside… my original tour plan was an 8AM start; even 8AM would have put us on the summit a little late if daytime heating were expected; but the weather fx was for continued morning snow showers, not sunshine…!
We had lost eye-contact, so I stopped and waited; as soon as he appeared above me (the audio is muted in the video), I yelled to Ben, "I'm not in a very good safe zone right here, and this slope I just skied is not real stable, but it was a blast making those 6 turns; let me get a little further ahead of you, Okay?", and got the heck out of there as fast as I could, now that Ben had line-of-sight to watch my back;
…it was bigger than I expected;

Yes, you are right again, my friend; yes, I agree, in general its safer to ski the bed surface, especially if its a terrain trap, or a slab avalanche problem, and considering the risk of a 2nd avalanche coming down the same bed surface…; (the audio is muted in the video), I yelled to Ben, "you are going to trigger something over there, you know, but that's okay, it's all wet loose snow – its not a slab…"; although the likelihood of triggering another Wet-Loose avalanche was probable, in my opinion, the consequences would be low; the last few hundred vert were not particularly steep slopes, although Wet-Loose will slide on lower-angles than Wind-Slab;
Yes; skinning up out of GG, I asked Ben if he had any interest in returning to the start-zone of Pipeline and Airplane to see if we could intentionally release either one, (remotely, of course…); today, apres-ski at the trailhead, I learned 3 friends broke-off at least one piece of the cornice at the top of Airplane, and the cornice fall did release some snow in the start zone; they did not intend to ski it today, this was 'community service', so that the top of Airplane will be safe to ski sooner, rather than later…
rog, you always bring up good points, or good jokes – thanks for the contributions!
Good point, JT, Ben and I discussed carrying a rope, and a harness, for occasions like this. Two years ago, when these guys dug a pit in the start-zone of Pipeline, I now suspect they used a belay:
Nice POV..I could feel run
Whew!
I always get the names of the runs in there wrong..
This has been a nice ongoing thread. Keep it up Jon and ….stay safe.
The story continues…
I was heading to PNVC hoping to enjoy fresh snow deposited in Tux with little wind. But the avy forecast read en-route convinced me otherwise. I suspected the best skiing (safety +snow) would be on the summit cone, so I detoured to Marshfield base station.
Skin up the cog was toasty but quick. Summit was peaceful and warm, with no wind or visibility: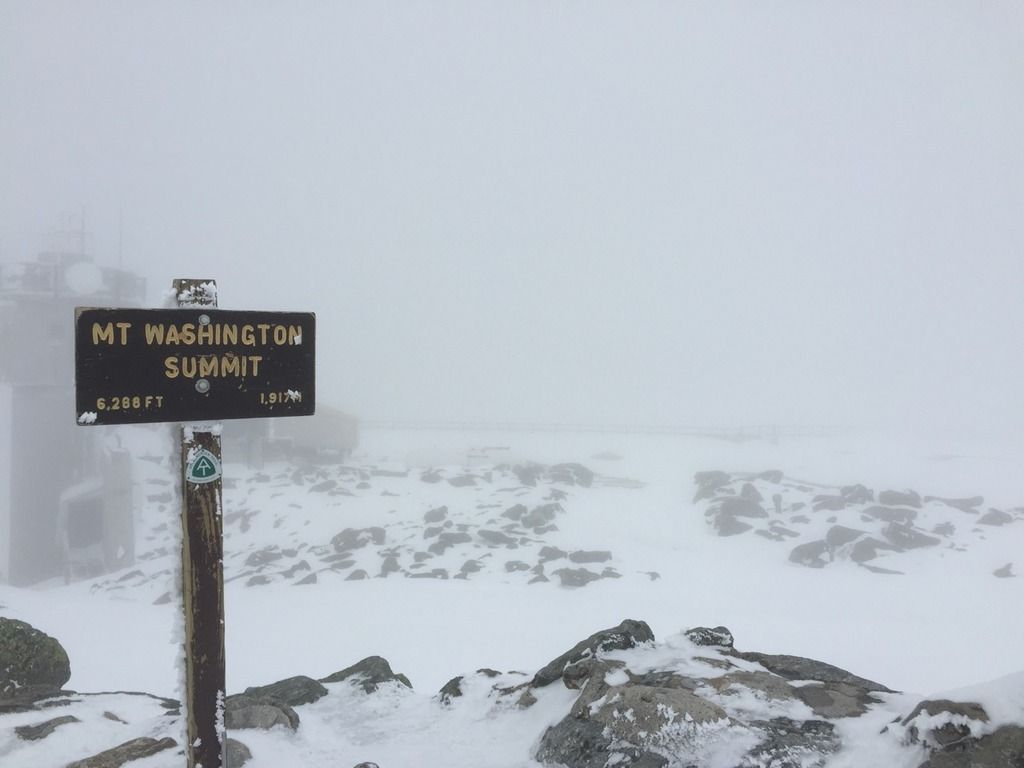 Easties had even less visibility: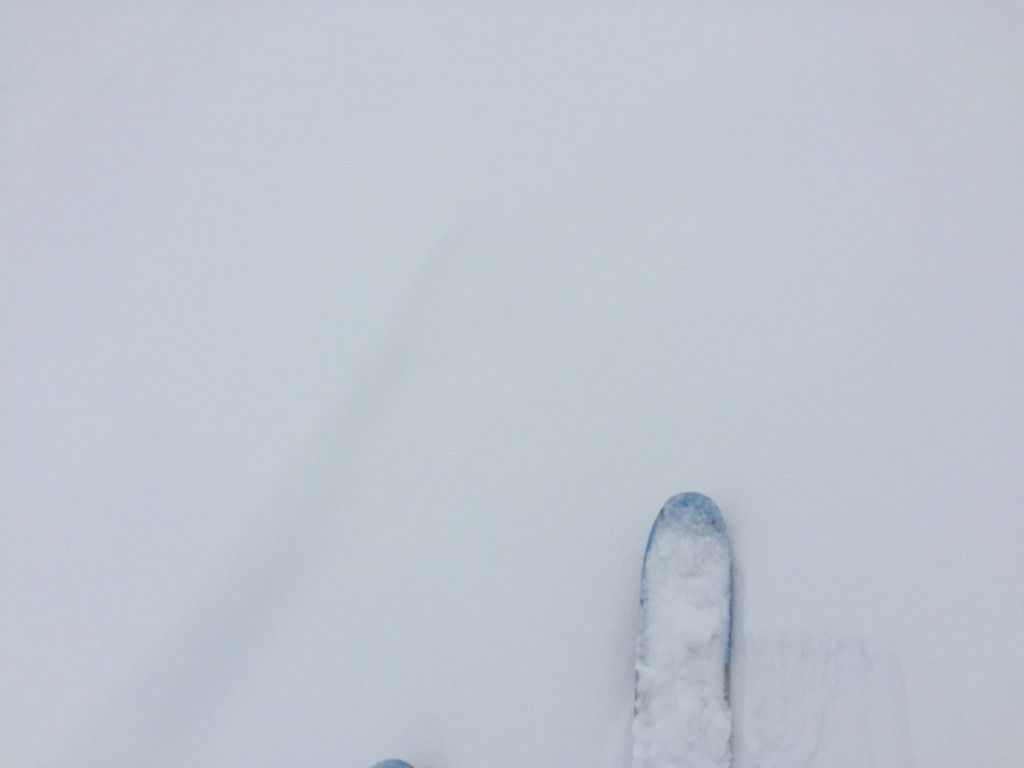 But the snow was absolutely delightful – some of the best I've skied up there. I had to take it slow and use my roller balls to tell what the slope was doing in front of me.
It cleared enough for a slightly more aggressive second lap, but of course the best views started when I was about to head back the other side: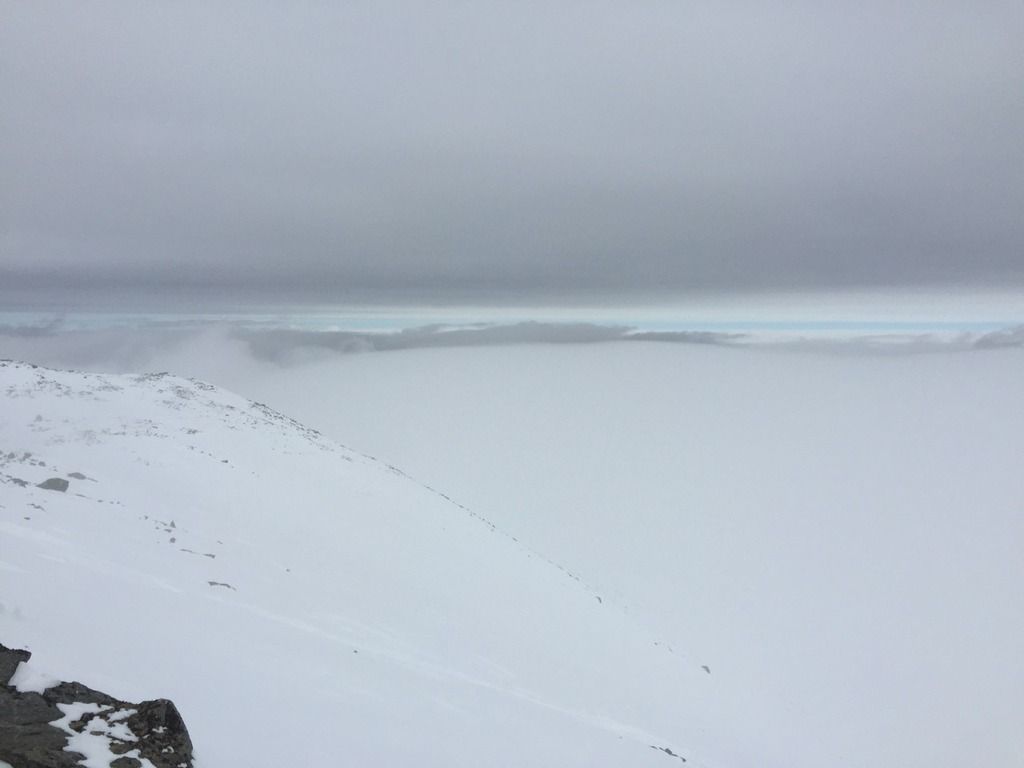 Through the miracles(?) of modern technology, Jon and I had been exchanging texts throughout and we met at Jacob's Ladder. New snow was not sticking well to suncrust, so we opted for NH glade skiing (don't forget your goggles) over the attractively smooth gullies. Attractive that is, excepting the apparently natural slide in south Ammo (I'm hoping Jon has pics).
We met Ben heading up ART to MB. This is what he found:
He said it looked like dry slab activity, and there were tracks coming out of it so we suspect it might have been skier triggered.
Never a dull moment on MW!
Now you know how Snow Rangers, MWV Ski Patrolers, MRS and AVSAR volunteers feel every Friday night, lol;
Thanks, haight, that made me laugh hard. I'm glad no one's lost their sense of humor here.
Ryan, I agree with you 100%. I never see eye-to-eye with rog, he's just so much taller than me.
One of Sheffy's many pet-peeves: people seeking avalanche safety training who want to be "Level 1 certified", and after 3 days, expect their AIARE instructor to wave a wand over their head and magically pronounce them "certified" safe-to-travel-in-avalanche-terrain;
There is no such thing as L1 or L2 "certification", other than a 'certificate of completion';
In my opinion L1 avalanche training provides a frame of reference for studying snow, weather, and avalanche conditions, and for understanding your observations, no more. Whether you've completed L1 or not, you have a life-long responsibility to continuously improve your knowledge-base and skills, to travel safely in avalanche terrain
rog, I tend to agree. Especially 10 years ago, the L1 syllabus was more "don't do that", "don't go there…" than today, now emphasizing more best-management-practices for touring in avy terrain; I don't use the AIRIE 'decisonmaking framework', but its the right idea – my own less-formal approach essentially covers the same bases, but if I had to teach someone else, I'd show them the AIARE framework. I doubt Jonathan agrees, but I strongly believe that if you READ ALL THE BOOKS and complete the on-line exercises in Jonathan's syllabus, you will be well prepared to study snow, weather, and avalanche conditions, and to understand your observations, without "formal" instructor-led training, especially if you can tour with more experienced partners who think-out-loud.
Thanks, Tom; I didn't think my TFT posts were increasing crowds on the Westside – oh, sh*t, I may be my own worst enemy!
If newcomers to the Westside read my posts, at least they'll have a little more fun when they get here, safely avoid objective hazards they might not otherwise recognize in unfamiliar terrain, maybe they won't ef-up the place for me and everyone else.
jr, you have been reading my posts!
Before your next WMNF adventure, sign up for Red Cross First Aid and CPR training, (or if you can afford it, a SOLO WFA course), and put together a real First Aid kit that you know how to use in your pack – that's much more important than formal avy training!
There is an incredible safety net for skiing or riding Tucks, if anything goes wrong, there's at least 1 highly-skilled Forest Ranger, an AMC caretaker, and on weekends, MW Volunteer Ski Patrollers, who can respond quickly, while other SAR resources are called-out that may take hours to respond. When you come to the Westside, or anywhere else in the WMNF, and you give up that safety net: ski patrol isn't going to rescue you, the Forest Service isn't going to rescue you, AMC isn't going to rescue you; you'll wait hours for Fish and Game to rescue you – be prepared for an all-nighter or self-rescue;
Yes & no; a very good question, with a long answer I'll save for another post.
Great! Apparently when the avalanche danger is elevated in Tucks, there are skiers & riders who go to the Westside; everybody knows there's never any avalanches in New Hampshire except in Tuckerman or Huntington Ravine, or the Forest Service would tell us about it, right?
avalanche training options
I think we had this conversation a long time ago, but I'd forgotten.
You do realize, of course, what it would cost the average reader of this forum to spend 1000 hours with a professional mountain guide?
That's like taking L1 and L2 (24 hours + 40 hours) 15 years in a row… so when you say you have no formal training, and dismiss L1 as scary and L2 as deadly, some people might think you are an untrained idiot who has just been very-very lucky in avalanche terrain, when nothing could be further from the truth. Eighteen years volunteering for SAR was the door-opener for me; I was fortunate enough to spend hours hiking the WMNF with some of our best local climbers and mountain guides.
I still recommend AIARE Level 1 to everyone as an affordable alternative to hiring a mountain guide; after 3 days of AIARE L1, you will have a "certificate of completion" and a better understanding of how to travel conservatively in avalanche terrain, allowing you to gain personal experience without getting killed (hopefully);
If you can afford it, don't care about AIARE 'certification', read a Tremper book, and hire a professional guide for 3 days of ski-touring, I think you will progress years ahead in "reflecting, evolving, and refining …processes to make better decisions" compared to the same 3 days split between AIARE classroom and fieldwork;
Patrick, I think that's a ski track made by one of 2 or 3 skiers who made short warm-up runs on the slopes of Clay near Clay Col; their view of the avy on Activator discouraged any other Great Gulf descents Tuesday afternoon.
South Ammonoosuc Ravine – Sunday, 4/12/2015
I spent a lazy afternoon linking snowfields above tree-line from North to Central to South Ammonoosuc Ravine on Sunday afternoon, and found both North Ammonoosuc and Central Ammonoosuc blew out in the rain Friday. From the trailhead, Central Ammo still looks like there's a nice snow-filled pitch at the top – but that's all that's left.

Its still possible to descend via South Ammo; I had a nice run down it, and the avy debris from the WS-N-R1-D1 we saw Thursday afternoon skied great! It was a dozen turns on loose, rounded ice cubes 3/4″-2″ diameter. Only the last 25 feet of that south brook blew out, and you just ski to the right of it, into the war zone below.
I was the first one through since it blew out, so route-finding along the skiers-left of the River was nerve-wracking, through the moonscape of mixed snow, ice, rocks and gravel at the base of Central. I sat down to drink a beer and relaxed, watching my dog scamper over the debris to get a drink of water out of the Ammonoosuc River.
A few minutes later, 3 more folks skied through, (Todd , Paul, & Sarah?) exiting via South Ammo. We skied down the ART from the Gem Pool, because the riverbed was trashed below there.
Central Ammonoosuc Ravine

The never ending story…
Never ending views: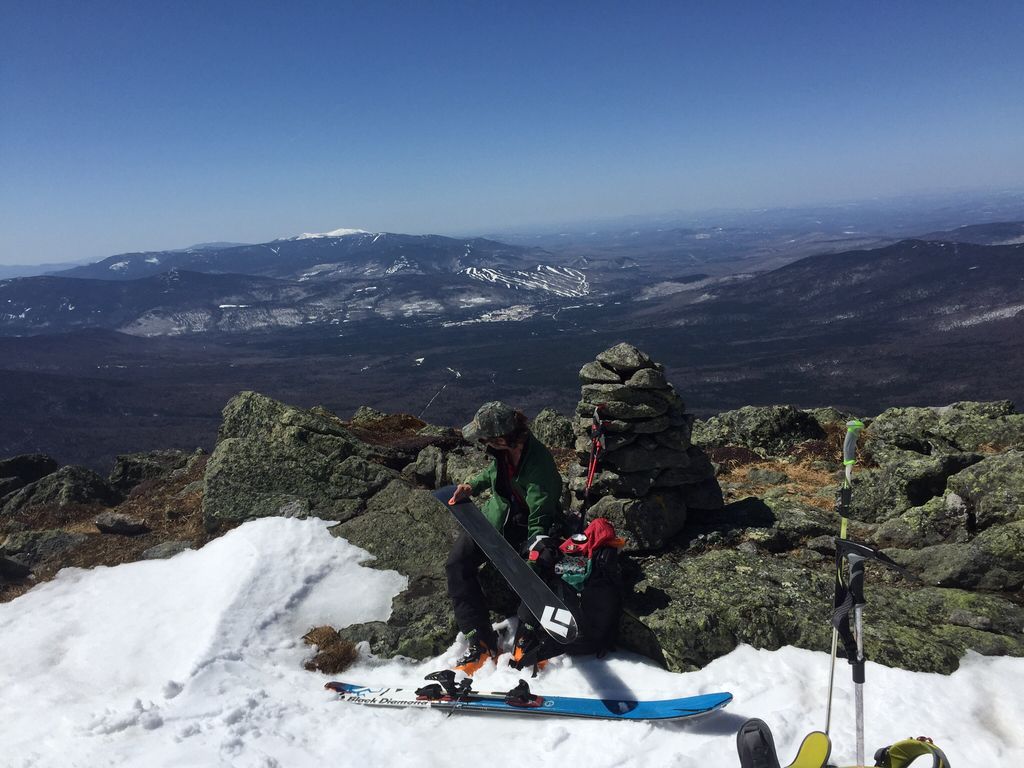 Pipeline with skiable (by mere mortals) ice bulge: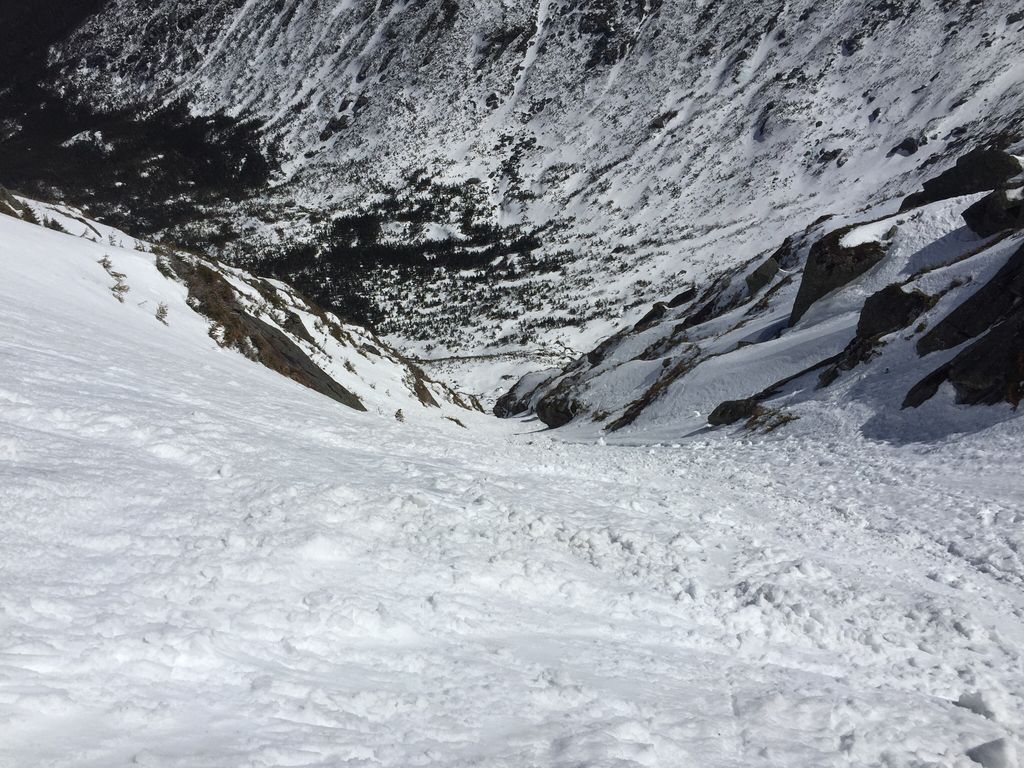 Never ending options (airplane skied the better of the 2 we sampled):

Never ending side hilling to MB: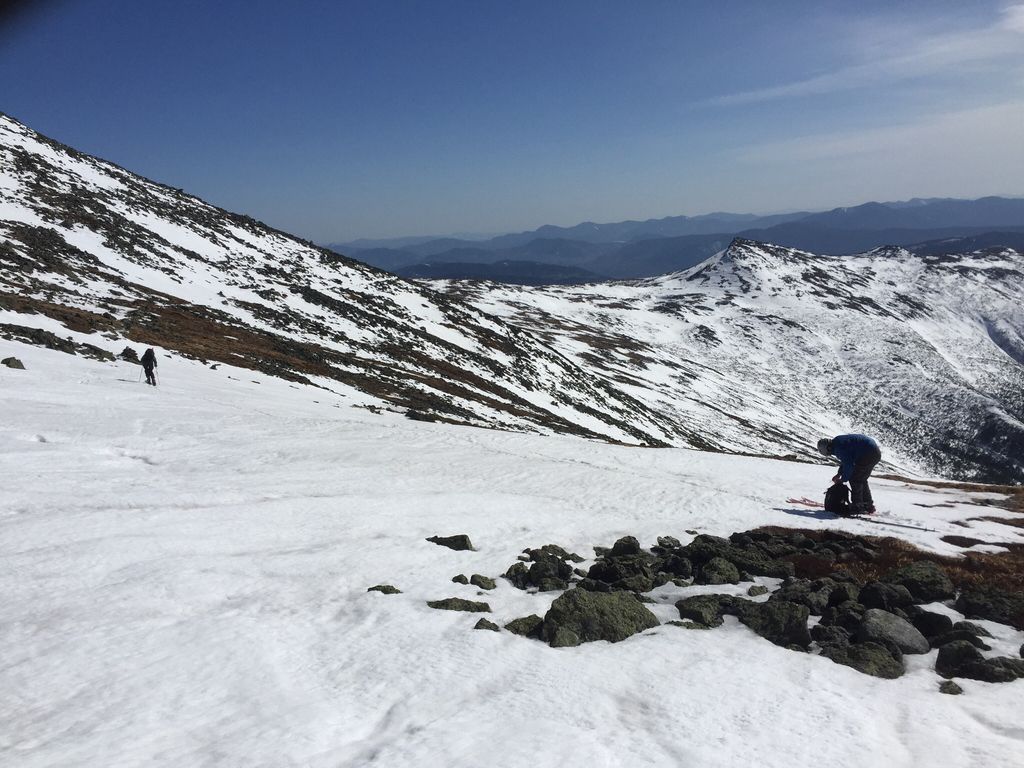 Pipeline, Airplane, & Monroe Brook – 4/13/2015
Ben & Andy at "Jacobs Ladder" –


– before Friday's rain, the sign said "Ladder".
…the Gulfside Trail

…Mount Monroe; we'll get to that later;

…Northern Presis

…the ice-bulge in Pipeline:

…I'm happy to have made it through the no-fall-zone in just a baseball cap:


I always wear a helmet; but I was late to the trailhead, rushed to get on the trail with Andy & Ben, and didn't realize my mistake until about half-way up to Waumbek Tank;

…the fan below Pipeline's ice-bulge:

…not my Mother-In-Law

…day-old tracks on Activator:

…overhanging cornice at top of Airplane:


…the last couple moves required to get up over the cornice were more technical than most skiers could handle – I'm not a rock & ice climber, though I have 20+ years experience climbing steep snow with crampons – it almost freaked me out; don't look down:


…where I needed to turn right, and make a giant step up onto a 12-inch-wide rock, the ski-tips over my pack were hitting the cornice; after 5 minutes punching and whacking away 5 more inches of the cornice next to my left shoulder, I had enough room to make the move; after that, I relaxed on a rock with a 4000-footer IPA, and waited for Andy & Ben to take a run down Airplane, and climb it a second time;
While there was still some snow on the summit cone, it looked like a good day to ski the Westside Trail, and enjoy the view of the Southern Presis and Lakes of the Clouds, on our way to Monroe Brook;

OG Double Barrel
Heard a report at the trailhead from Chris that DB skied well Monday, not too soft. Looks like skiers-right has more snow than last time I squeezed thru there. Did I miss you in the massive Marshfield apres-ski tailgate party Sunday, or did you start from Pinkham?
ski tuning secrets…
…Andy caught me rubbing on race-paste wax before descent. Wish you hadn't posted that one, LOL. I sharpen my edges on the bench, but quit hot-waxing last season, after years dealing with adhesive problems on skins caused by wax residue peeling off bases. This season I've carried a tin of paste wax in my skin bag, and if time & weather allow the luxury, I've been quickly waxing the dry ski bases after peeling off skins. Skis sliding smoothly through the turns has put even more fun in my descents.
I didn't really miss my helmet except at the Pipeline ice bulge, because the spring conditions were so forgiving that long-sliding-falls were not an issue; and ascending Great Gulf, it wasn't warm enough Monday to increase the risk of rock- and ice-fall
…hadn't thought that far ahead past the traumatic brain injury
I hope my wife doesn't read this…
Pipeline & Airplane, Monday the 13th
No helmet = no helmet-mounted video;
Here's a short slide show of Pipeline, including short clips of JAS71 and Ben skiing:

and a short raw clip of JAS71 skiing Airplane, where the snow was better:

…and while posting my own POS video, I've gotta bump-up Tyler's Double Barrel video, where the snow, and the video production, was even better:

South Ammonoosuc Ravine – 4/15/2015
Wednesday, I went on a short tour with my friend Kat and our dogs;


On the way up ART, we saw Victor skiing out with his dog; He reported stopping about halfway up Monroe Brook because it hadn't softened up enough for his dog to climb it.
In spite of the sunny skies and mid-40s air temp, apparently gusty NW winds weren't allowing the snow to soften on NW aspects, so we decided to revisit South Ammonoosuc Ravine, and see if it was still a viable approach & exit route; it is, but I can't honestly recommend it at this point, compared to the other options of the Cog or MB; we had to boot-pack over the moonscape at the bottom of Central Ammo; spruce, fir, and alders are popping up out of the receding snowpack, further narrowing the line down South Ammo, which never filled-in much this season;

We did find good spring skiing conditions in South Ammo, which was somewhat sheltered from the wind;

We turned around about 4100′, nearing tree-line, before it really opens up; it looked like the snow was just as good or better up higher; we had hoped to top out South Ammo, below Lakes of the Clouds, and still have an option of descending MB, but it took too long getting through the moonscape, and setting a skin track around a short open-water hole at the bottom of South Ammo.
It doesn't just "look" steep, it is… and it can be very intimidating the first time you ski it;
The snow was too soft for my taste, but that took the risk of Long-Sliding-Falls out of the equation, and softened the ice considerably; it was still intimidating for Andy and Ben to ski over the ice bulge the first time, but once on it, you could hold an edge, and only had to make 2 turns; I've hiked back up Pipeline from the ice bulge more times than I've skied over it, but on Sunday, the ice was manageable;
Andy, Ben and I hiked up Airplane. A guy and gal who made the first tracks down Great Gulf via Spacewalk (skiers-right of Airplane) were waiting below the ice bulge for us to descend; they hiked up climbers-left of Pipeline, to ski it; when I was punching the cornice at the top of Airplane, trying to get over it, I wished I had just followed them back up Pipeline.
Monroe Brook washed out 5/09/2015
Photo courtesy of Logger Ben, Saturday, May 9. Airplane was good. MB was not: